2009 Christmas Newsletter from John, Pam, and Sarah Jane Waldrip
Dear Friends,
Thank you so much for the kindness and graciousness of your friendship and love for Pam, Sarah, and me throughout 2009. As He is so faithful to do, God has wonderfully blessed us at Calvary Road Baptist Church over these twenty-four years. This is the second year I have used this format for my newsletter, sending a card (cheaper!) to entice you to visit the church website to read our comments and see the pictures. Thanks for showing up. :-)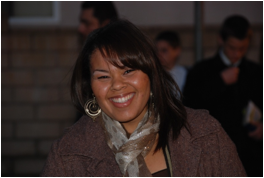 January 2009 began the fifteenth year of my Wednesday night teaching and preaching series that I have titled The Life and Lessons of the Lord Jesus Christ. As I write this newsletter, I am wrapping up the gospel account of Zacchaeus that probably took place about eight days before our Lord's crucifixion. Looking back over the years, I am so glad I began this study. It has deeply enriched my own life. Portions of this study can be found on this website. I also attended two preachers fellowships during the month.
One of my lifelong friends (Monica, pictured) and I teach a Sunday School class, using Jill Masters' lesson plans. She is the wife of Dr Peter Masters, pastor of the Metropolitan Tabernacle, and has written a great Sunday School curriculum (Lessons for Life). We are thrilled to teach the kids, and find it amazing to see how much they grasp and how eager they are to ask questions about the Bible and salvation. Just as you think they may not be listening, they surprise you with the amount they pick up, when it seems they are fidgety and excited about getting a snack.

February 2009 is full of great memories. I flew to Houston, Texas where I took a hotel room with my good preacher friend, David Coe (Pictured), who pastors Beth Haven Baptist Church, Morgantown, WV. We were attending a national meeting of the Baptist Bible Fellowship International hosted by Central Baptist Church and Pastor Larry Maddox. We had a wonderful time, ate great Tex-Mex, explored the Central Missionary Clearinghouse (giving me a chance to finally meet Mrs. Jack Bridges), and drove to The Woodlands to renew acquaintances (and eat a great dessert) with Don and Gloria Rigali, whose oldest son is one of our church's best men. The day after returning to Monrovia, longtime friend and missionary to Canada, Steve Grey, arrived at long last. Brother Grey arrived to kick off our annual missions conference that began March 1. Because of the scheduling of the missions conference (Pam and I have never considered our own birthdays or anniversary when scheduling church functions) the wonderful women of our church threw a birthday party for Pam on the 28th, celebrating her birthday three days early. We have such great women in our church.
March 2009 began with our eight day, Sunday through Sunday, missions conference, an approach suggested by my friend Dr. Robert Knutson. The missions conference moved me, and all the more as I continued to read in my devotions the biographies of missionaries such as John G. Paton, Scottish missionary to the New Hebrides in the 19th century. Missions, especially the starting of churches, should be the heart's cry of every pastor and church member. Later in March, Pam and I took a couple of days off to go to Big Bear (pictured).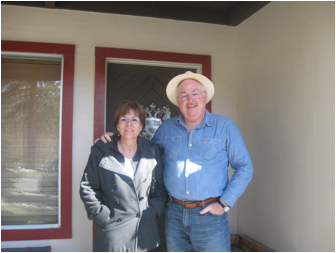 April 2009 was the month in which Easter was observed this year. For a change, I decided to show the old movie The Robe on Good Friday night, since it has an astonishingly clear presentation of the gospel, even though it was produced in Hollywood. I do not know the spiritual condition of the two movie stars when they died (Richard Burton and Victor Mature), but there can be no doubt of their exposure to the gospel during their life here on earth.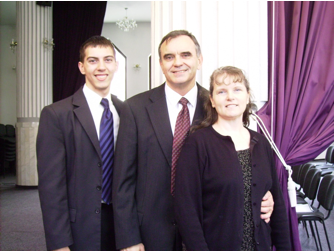 May 2009 was as furiously busy as every other month with me typically speaking seven times in a week, but there were two special treats for me to offset the sadness that I must deal with every Mothers Day when I reflect on my mom's passing five years ago. On May 17, Garry and Nancy Matheny (pictured) missionaries to Romania, were in our Sunday evening service with their youngest son. Garry and I were classmates at Pacific Coast Baptist Bible College a lifetime ago, before he went to the state of Washington to start churches and then on to Romania to do the same after the collapse of Communism in Eastern Europe. I am eager to figure out a way to visit his work there in Romania before either one of us gets too much older. Then, on May 31, Bob Cosby and most of his family were in Southern California to attend his son's graduation from seminary. They all played instruments and sang before he preached, and were a great blessing to our church. Years ago (before I arrived on the scene) Bob served on the staff of our Christian school, and it was the goodness of God that enabled us to finally meet in person.
One of my first jobs after graduating high school was as a file clerk at a small law firm in Pasadena, working for some really sharp attorneys who specialize in estate planning and trust administration. I resigned to try my hand at nursing school, but did not like it at all, so I was very thankful when they offered me a job as an administrative assistant. At present I am considering furthering my career in law or business (but not as a lawyer).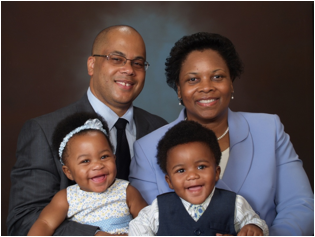 June 2009 was exciting for a number of reasons. I had the great privilege of preaching the commencement address at Calvary Baptist Church's Christian school in Yucca Valley, where my friend Rob Watkins is the pastor (he is also the president of Pacific Baptist College). Our Christian school kids have always enjoyed being around the kids in that school, because they reflect the spirit and heart of their pastor and principal. I also had the chance to see Mrs. Watkin's mom and dad, Rev. and Mrs. Art George, who serves in a Baptist church in Texas. They are wonderful people. A week later, the Simmons family arrived from Oakland, so Pastor Ken Simmons could deliver our Christian school's commencement address. This gave our entire church family an opportunity to see Mrs. Pat Simmons, and their twins, Rachel and Jeremiah. (Pictured) Two kids could not be more different and be twins, with both absolutely delightful. God has blessed those two by giving them such a wonderful mom and dad to raise them. On Friday, June 19, I went to the Reagan Presidential Library to see the traveling Magna Carta exhibit. The next day, I went to Burro Canyon with churchmen to make some gun smoke and exercise our Second Amendment liberties. What great fun it is to punch huge holes in paper targets with the guys! I turned fifty-nine this month.

July 2009 is summer church camp time for our church, with this summer's camp theme being the resurrection of Jesus Christ. Some background is in order at this point. Neal Weaver, president of Louisiana Baptist University in Shreveport asked me to begin preparing for a class he wanted me to teach. Though the opportunity to actually teach the class never materialized, I ended up reading a number of incredible books dealing with Christ's resurrection. Though N. T. Wright and I disagree about some important matters, his The Resurrection of the Son of God is one of the best books I have ever read on any subject. It and two other books I read, Gary R. Habermas' fine little book The Resurrection of Jesus, and Gary R. Habermas and Michael R. Licona's The Case For the Resurrection of Jesus, spurred me to not only lead my congregation to make aggressive use of Christ's resurrection when witnessing and defending the faith, but also focus on the resurrection throughout the week of camp. I apologize for advertising the books, but these three books can literally change a person's whole thrust of ministry and evangelism. They are more than merely informative.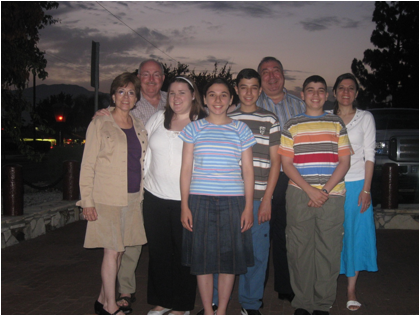 August 2009 began very well, indeed. My close personad friend, Bro. K and his family were with us for the evening service on August 2. I had the privilege of being the best man at his wedding in Jerusalem too long ago to remember, and am very fond of George, Peter and Kristy, who are growing up too fast. (Pictured) The Friday after that our men met in the church auditorium for an all night prayer vigil, concluding with a men's breakfast at Hometown Buffet on Saturday morning. I am convinced that God is well pleased when the men of the church pray together. August 15 was the Saturday that our church women went shooting at Burro Canyon.
One of the most memorable things to happen to me this year was to meet my grandmother Ann for the very first time. It happened when I (Sarah) went to San Jose to take a road trip with my Aunt Yvonne to transport my cousin Jarrad's SUV from San Jose when he returned from his tour of duty in Iraq. We drove through Nevada, Utah, and Wyoming on the way to Fort Carson, next to Colorado Springs. (Pictured)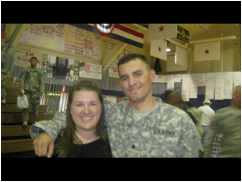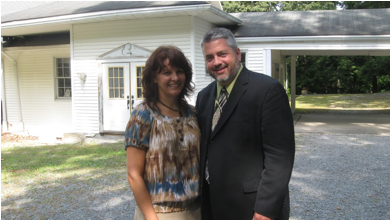 September 2009 began with the last softball game I will ever play. On Friday, September 4, I slapped a grounder during a church softball game and ran to first base, somehow tweaking my knee so badly that even though I finished the game, I walked with a severe limp for about three weeks. What did I do to the knee? Nothing really, except try to use it as a younger man would use it. Never again! I have learned my lesson. From now on, I restrict my athletic activities to lifting weights and walking, though I would not hesitate to strap on scuba tanks at least one more time if given the chance. Pam and I also went to the national fellowship meeting of the BBFI in Canton, Ohio. We flew to Columbus, Ohio and drove to go through the Answers In Genesis Creation Museum outside Cincinnati. We then drove to Morgantown, WV to preach for our good friend, David Coe, and finally get the chance to meet his wife, Shannon, Irish lass if ever I saw one. (Pictured) We also met David's oldest and youngest sons. We were very impressed. From there we drove to Canton, went to the National Football League Hall of Fame, and enjoyed fine preaching and a wonderful time made possible by the host pastor at Canton Baptist Temple, Mike Frazier. At the meeting, I announced my resignation as the state chairman of the California Baptist Bible Fellowship, and was approved as the field representative for the BBFI to the countries of Lebanon, Israel, and Egypt. I am thankful my peers elected me to serve as state chairman twice, and am honored that mission director Jon Konnerup nominated me to be a field representative. What an exciting opportunity it gives a pastor to be an encouragement to missionaries. To top off the great month, Pam's nephew Jarrad Franco arrived for a visit (See July, 2009). Jarrad is the son of Pam's youngest sister, Yvonne, and perhaps Sarah's favorite guy cousin. Jarrad is also crazy. However, the United States Army seems to think a great deal of him, since they use him to drive their main battle tank, the M1A1 Abrams, weighing in at 68 tons! We had a great time with Jarrad and are eager to welcome him to our house whenever he can arrange to visit.
Jarrad and I went to Disneyland, and then dad took him to the Military Museum in El Monte to look at old military weapons, the Peterson Automotive Museum in West Los Angeles, and then to The Grove/Farmer's Market which is also in West LA. On another day, some of the guys his age who are in our church took him to Universal Studios. I am really glad he came and am thankful he had a great time.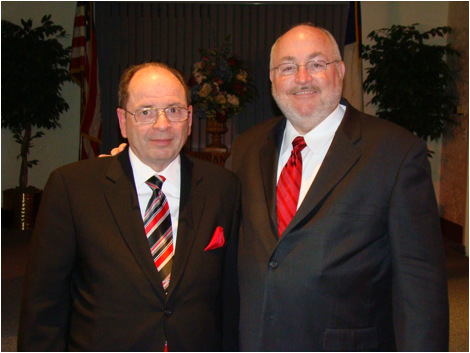 October 2009 is the month when our church schedules PayCheck Sunday. PayCheck Sunday was recommended to me by Dr. Jack Bier some years ago when we enlisted him to serve as our church business manager and accountant. It is a service he provides to many other churches from his office in Audubon, NJ. This time around we had the great privilege of hosting the pastor Dr. Bier got the idea for PayCheck Sunday from, Dr. George Riddell. (Pictured) Dr. Riddell preached for us at a special banquet on October 4, and we took up our PayCheck Sunday special offering a week later, seeing a total of $31,000 come in. I was thrilled to see God's people give so generously in the present economic climate. A week later, Pam and I observed our 34th wedding anniversary. We closed out the month with a Christian Alternative to Halloween at our church.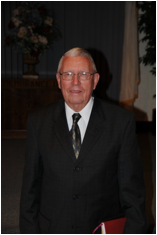 November 2009 began with an unexpected treat, missionary Richard Konnerup attending our Sunday evening service. (Pictured) I guess I will never know why so many pastors give up their Sunday evening service. After all, church is the ultimate democracy and if people do not want to attend on Sunday evening, they certainly do not have to. However, I will maintain Sunday evening services for a variety of reasons: First, without such a service such pleasant surprises as Brother Konnerup's visit would not be possible. What about the missionaries? How do they get into a church that does not have a Sunday PM service and offers no midweek gathering? Second, Sunday evenings are my personal favorite service. Third, Sunday evenings give your people a chance to bring folks to church they have spent time with on Sunday afternoon. Sarah's birthday was this month, and she and three friends had a great time in Santa Monica and Venice, going to the Santa Monica Pier, eating out, and enjoying each other's company. I enjoyed the privilege of preaching at the Baptist Tabernacle in downtown Los Angeles the Sunday night before Thanksgiving. This Thanksgiving was spent at a church members home. There were five families in that house. How does that woman get so many people comfortably into her house? Friday evening after Thanksgiving, we gathered as a church family for a nice meal and fellowship time. For many of our people, this is better than Thanksgiving, since these are the people they will spend eternity with. The fellowship was sweet.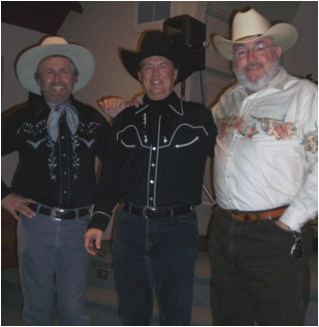 December 2009 started with a twang. Tom Hiatt (left) is a wonderful musician and singer, and my preacher friend, Marvin O'Dell, accompanied him (center) in presenting a western music concert in our auditorium on the night of December 4. (Pictured) The music was grand. Our people loved it, and we will do our best to have those guys back again. As I write, what lies ahead for us is our church's Christmas cantata, my Pastor's Christmas Story Time on Christmas Eve at the church, our church's Christmas banquet on the 27th, and our Watch Night Service on the 31st.
It has been thirty-four years since God blessed me with a wife and a definite call to the gospel ministry. I know that I am much closer to the conclusion than I am to the outset, so time is all the more important to me than it once was. As we celebrate the birth of the virgin born Son of the living God, I wonder all the more why those who do not embrace Him as He is self-described in Scripture waste their time celebrating Christmas at all. I become more jealous of Christmas as I get older, finding all remembrance of His blessings in my life precious.
On behalf of the wonderful women in my life, Pam and Sarah, I wish you a most blessed Christmas and earnestly desire to hear of God's distinct workings in your life.
J S W S J W