Dear Friends,
Thank you so much for the kindness and graciousness of your friendship and love for the girls and me over this past year. As you will see by reading on, God has blessed us individually and as a family so much through the church we have served in for twenty-three years. As well, I trust you are not overly inconvenienced by the approach I am using for this year's newsletter. I just thought that the constraints imposed upon me to limit my remarks and photos to fit just a few pages were too troublesome, so I decided to send you a card (cheaper!) and entice you to visit the church website to read our newsletter and see better quality pictures (easier!). Thanks for showing up. As you read, you will come to a link from time to time that leads to those pictures.
The first picture I would like to show you is a picture of the Calvary Road Baptist Church auditorium. The doors are on the south side of the building, with mountains in the background that cannot be seen because of cloud cover, not smog. There is very little smog anymore in our part of Los Angeles, so the beautiful scenery of the mountains to the north is our constant and appreciated backdrop. Our church has been in this building since the 1970s, with modifications made along the way to accommodate greater numbers. The church also owns three adjacent buildings that are in constant use, with one being a two-story education building that houses most of our church's Christian school.

January 2008 was a very busy month for us. The month began with a missions conference featuring Rev. Steve Bender. Brother Bender and I both graduated from Pacific Coast Baptist Bible College years ago, though it is obvious from the next picture that we were not there at the same time. Brother Bender served for a number of years as a missionary in Korea, and now serves as an Associate Mission Director of the Baptist Bible Fellowship International, located in Springfield, Missouri. Brother Bender brought some of the most challenging and heartfelt messages from God's Word I have ever heard. I ascribe some of his effectiveness as a preacher to the place of his (and mine) birth, the Holy Land (Texas)!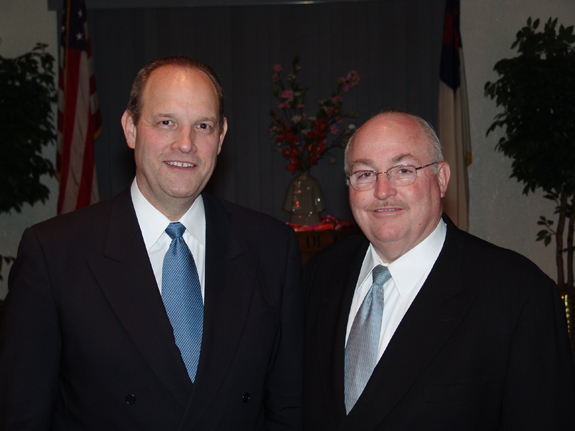 I earlier mentioned that God has been so very good to us through the people we are privileged to serve. One example of the many blessings was a vacation given to us for Christmas 2007, a vacation in Hawaii. The treat was even more delightful because Mr. James Dunn, who has been attending our church for several years with his wife and son, maintains a home in Honolulu that he lived in for many years while raising his four children. Our vacation was spent in Honolulu at his home, where he loaned us his car and alternately played tour guide to us and then let us roam freely throughout the island. This picture shows us ready to depart at the airport. The young woman to Pam's right is Monica Quintero, one of the young women Sarah Jane has grown up with in the church. What a delight it was to have her along to distract our troublesome daughter and to squelch her loathsome complaining by playing with her while Pam and I enjoyed ourselves immensely. Of course, I am kidding Sarah. However, Monica is as much a part of our family as Sarah is a part of her own, so the four of us definitely enjoyed ourselves.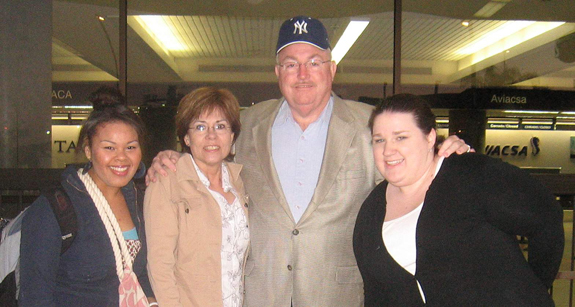 We are really bad at taking pictures at the right time and properly composing them, so please excuse us. We took so many pictures, but they are of little use to anyone but us. I hope this one picture of me standing atop Diamond Head, an extinct volcano crater seen at the beginning of every episode of the old television show Hawaii Five-O, will prove that we were truly there.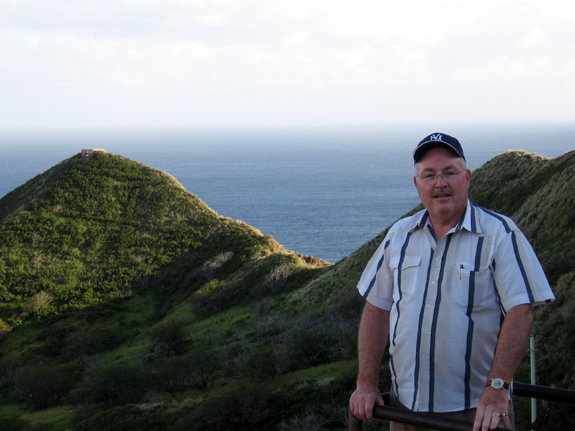 While we were enjoying the tropical weather of Hawaii, and enjoying the afternoon showers at James Dunn's house on the Pali Highway leading out of downtown Honolulu, our hometown of Monrovia was suffering through the effects of global warming. You will notice in the next picture that there is snow on the roof of the church house. As I write this newsletter there is two feet of snow in Lancaster, where my mother last lived before her passing. If this global warming phenomenon continues, I will have to start wearing long sleeved shirts, except when I am vacationing in Hawaii.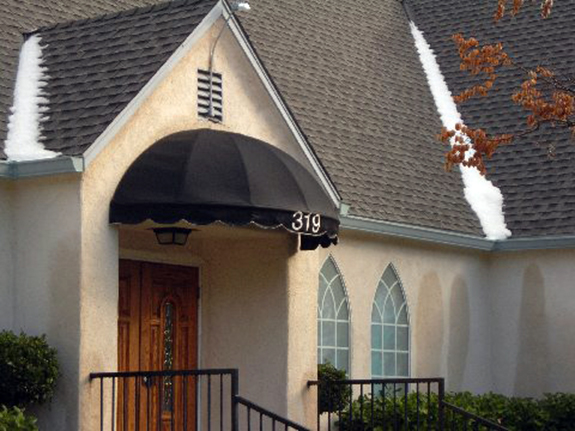 While serving as the chairman of the California Baptist Bible Fellowship, I had begun organizing pastor's fellowship meetings in northern California with the help of several friends, most frequently Pastor Mike Orlicky, who with his wife Julia are genuinely steadfast servants of Christ. Though my term of office had expired, I enjoyed myself so much and was blessed by such strong support from the people I serve as pastor, that I continued the practice with Pastor Orlicky at Coastside Baptist Church in Half Moon Bay. One of the speakers for that April pastor's fellowship, who also preached for our church before flying with me to the San Francisco Bay area, was Rev. Herb Hubbard, at that time a vice president of the BBFI and the pastor of the Bible Baptist Church in Savannah, Georgia. what a joy to have him speak in our church and in our fellowship meeting in Half Moon Bay.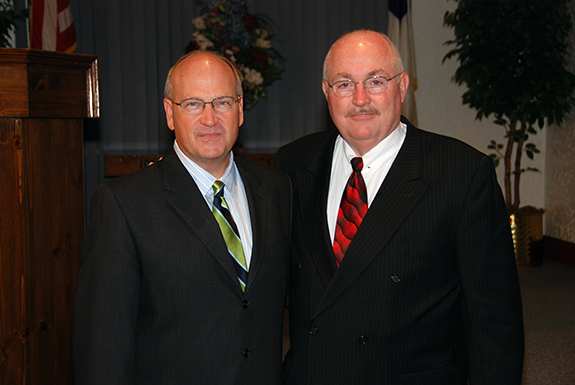 The next picture shows Rev. Jim Edge, at that time the incoming president of Baptist Bible College in Springfield, Missouri. Though his schedule did not permit him to fly with us to the Bay area, Brother Edge did preach at our church on Sunday and brought a message from God's Word that evidenced a deep spirituality and close walk with God. Our people wish him God's richest blessings as he serves God in Springfield, Missouri.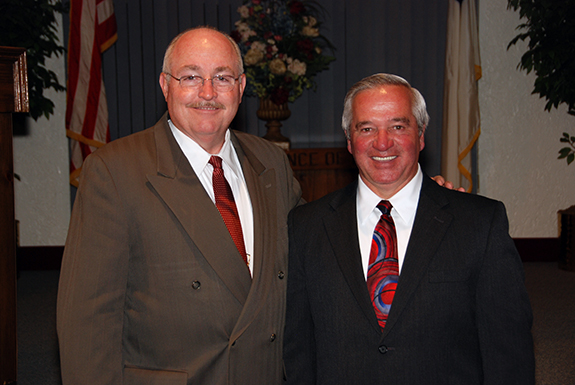 Also with us in April 2008 were our great friends Tracy and Sharon Dartt. One of the brightest and most comical men I have ever known, Tracy is both an excellent musician/songwriter and outstanding preacher. Our people always look forward to him being with us. It greatly saddens me that so many churches have discontinued their Sunday night and weeknight congregational services that missionaries and itinerant ministers such as Tracy Dartt find it increasingly difficult to book meetings in local churches. May own opinion is that such a trend is part of the slide into postmodernism, and I will resist that trend with everything I have. I am committed to God's people gathering together more, not less.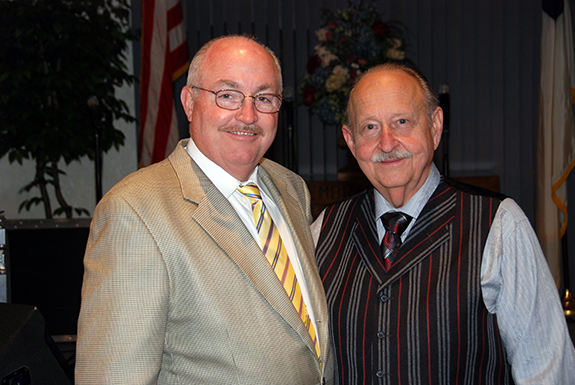 Dr. Harvey Goodman brought our high school commencement address this year with a challenging message from God's Word. Our church has supported Harvey and Linda for several years and stand behind his ministry to preachers and their families. On a free day, he and I drove to the scene of a great spiritual horror, the Hindu temple in Calabasas. The next picture shows Harvey standing in front of this monument to a million gods.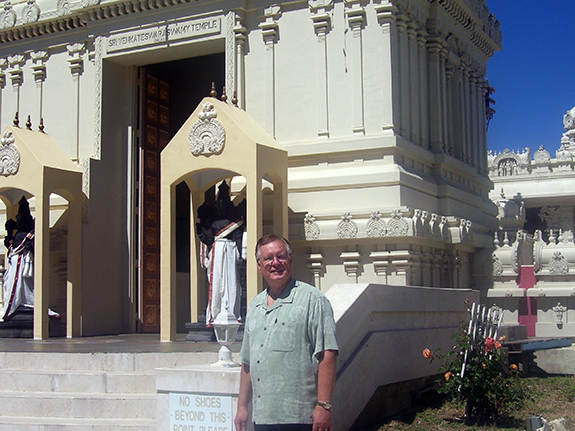 From Calabasas we drove to Malibu to visit the Getty Villa, and then on to the Getty Museum in Los Angeles. The next picture shows Harvey standing at the entrance to this shrine of western civilization.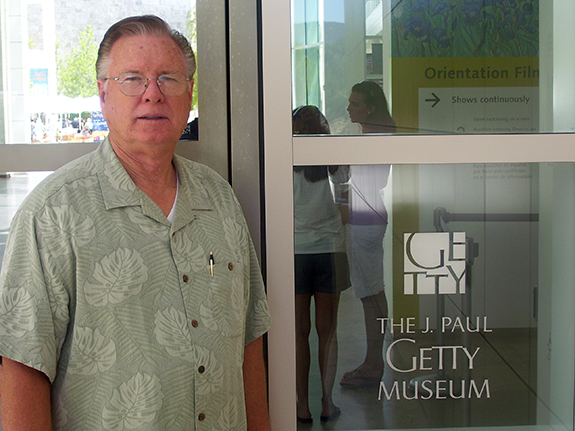 Our church has so many wonderful people, with some of the most incredible and interesting women imaginable. On one occasion, a number of our single women gathered for a time of fellowship. Take a look at the next picture and ask what pastor does not thank God for the privilege of providing spiritual oversight to such women as these?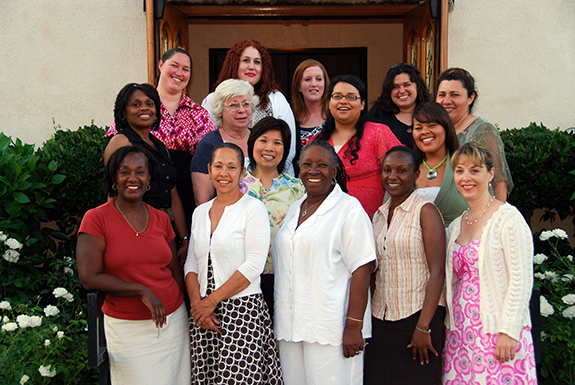 Toward the end of July, after our annual summer camp had ended, we received a brief visit from missionary Bro. K, his wife Ruth, and three fine children, George, Peter, and Kristy. Dr. K is a real church-planting missionary like the others we support, having planted his third church in the Middle East and already planning to turn the work over to a pastor so he can start yet another church. I had the great privilege of serving as his best man when he and Ruth married, and am delighted to report that perhaps his greatest work, The Arabic Study Bible, is entering the final stages of preparation before printing. Please let me know if you would like to have a part in the printing costs of this profoundly important tool that I expect God to use greatly in the Arab world.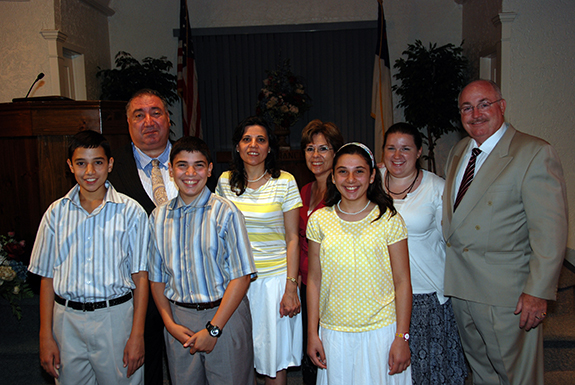 David and B. Mallipudi are from India, and have gone back to India as missionaries to their people on the East coast of southern India. They have already been used of God to pioneer twelve churches, and this was prior to their retirement from their professional careers and before returning to India. Imagine being this productive when making use of annual vacations. Our people loved seeing them again last August and are excited about their ministry.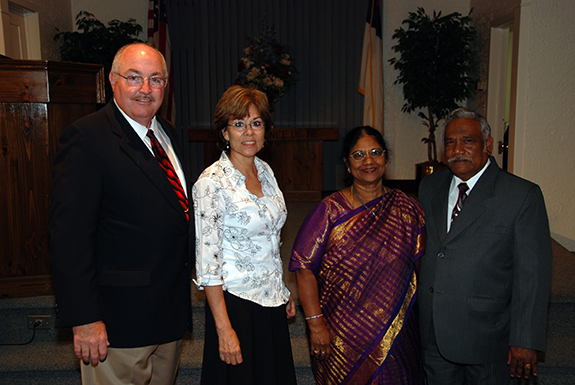 It was with great sadness that Pam, Sarah and I learned of the passing of Pam's father, Alfonso Franco, on September 24th in Salinas, CA, where he had lived for many years with his wife of sixty years. Born in Mexico on October 24, 1916, he discovered only when he retired as a prison guard at Soledad Prison that his actual birthday was on the 22nd. He raised a boy (Craig) and three girls, the oldest girl being my own Pamela Lucille, who he always addressed as "My little one." It was not until we saw a picture of Pam's grandmother that we realized one reason for her father's fondness for his oldest daughter, she was the very image of his own mother, who died at a young age from tuberculosis. The next picture is Pam's grandmother, Libraba Gutierrez.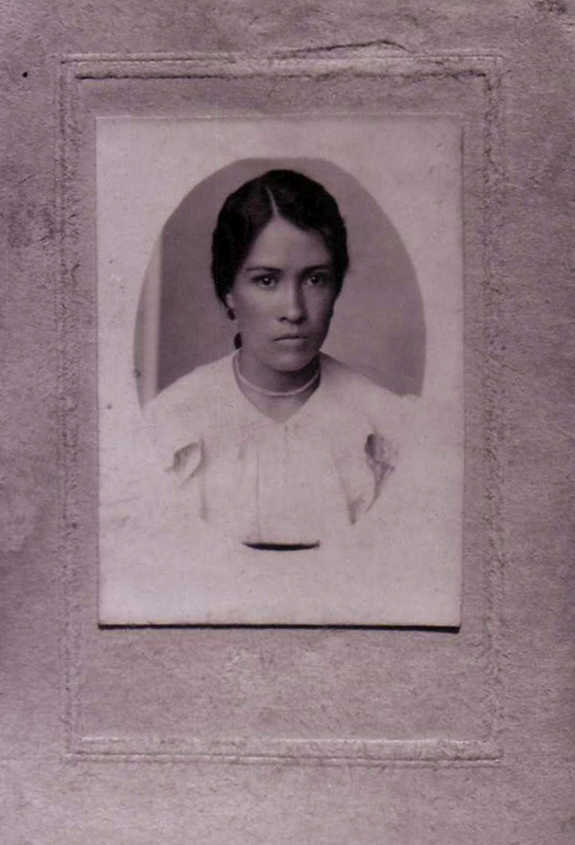 Following is a picture of my beloved father-in-law Al Franco with his three daughters. From left to right is Vivian, Pam, and the youngest, Yvonne. My goodness, how those girls loved their Pop. He was laid to rest on September 29th.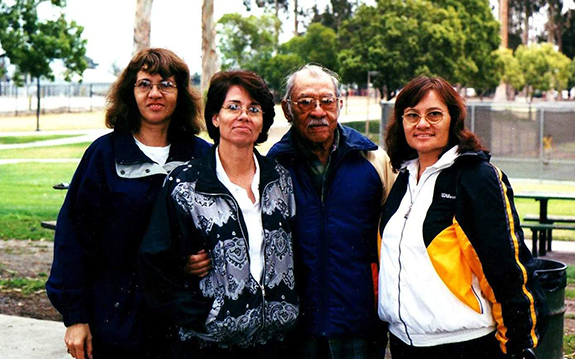 Before you conclude from the next picture that I am flashing gang signs, I need to inform you that the church was celebrating our 33rd anniversary, and I was paying homage to that significant milestone. It was October 18, 1975 that I married Pamela Franco, in a service at Torrance Baptist Temple that was performed by Rev. Joe Morton, our pastor. Proverbs 18.22 declares, "Whoso findeth a wife findeth a good thing, and obtaineth favour of the LORD." After thirty-three years, I know that to be true by experience.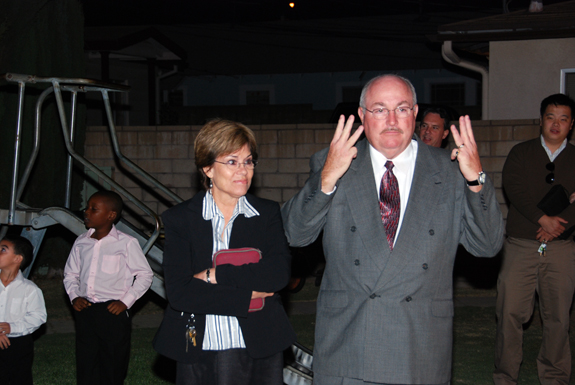 About twenty-eight years ago, during my first pastorate, I had the privilege of meeting a missionary named Steve Grey. A graduate of Arlington Baptist College who had served in Florida and Costa Rica, Brother Grey pastured in my town and then worked for me for a while before moving on and ending up serving God in Canada. We stayed in contact over the years and our church began supporting him and became his home church and sending church. I am happy to report that he has consented to work with us here at Calvary Road Baptist Church in as yet undefined capacity, but one that will certainly fulfill his continuing commitment to reach the lost with the gospel. This next picture was taken while he was preaching and singing for us in November.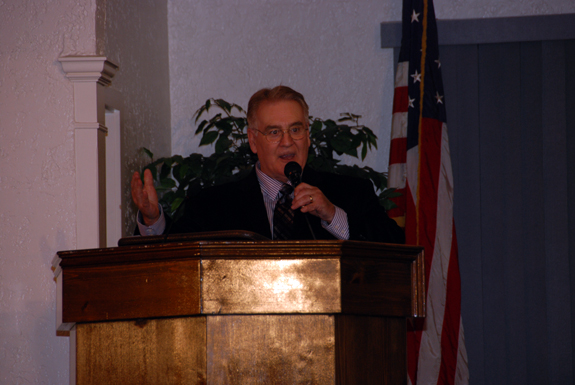 The last picture shows both Steve and his wife Suzanne, one of the brightest women I have ever known. I know she is extremely intelligent because she laughs at all my jokes. Steve and Sue had to return to Canada for Steve's scheduled knee replacement surgery. Now that he is recuperating, please pray for their ongoing health needs and their upcoming move to Monrovia. I can hardly wait.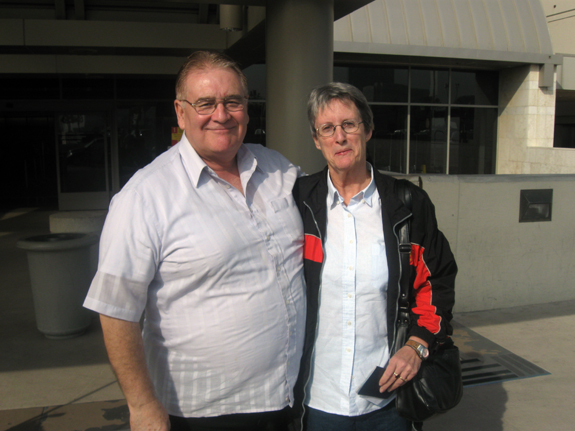 Let me wrap this up by revealing how excited I am about serving God. My wife and daughter both invest huge amounts of their time in our church's ministry, much of it effort that goes unseen by most people but which I greatly appreciate and know God blesses them for. This next year will be one of great challenges in the fact of the economic downturn, the rapid secularization of our society, and new doors of opportunity that seem to be opening.
Please pray for us, and know that when you ask us we will pray for you.
May your Christmas be Christ-centered and glorious in celebration of His miraculous Incarnation.
Love to you all from,
John Waldrip and the girls
Christmas Newsletter - 2009